FOR TEACHERS ONLY: Hands-on history for year 4-6 students (Heritage Month)
FOR TEACHERS ONLY: Hands-on history for year 4-6 students (Heritage Month)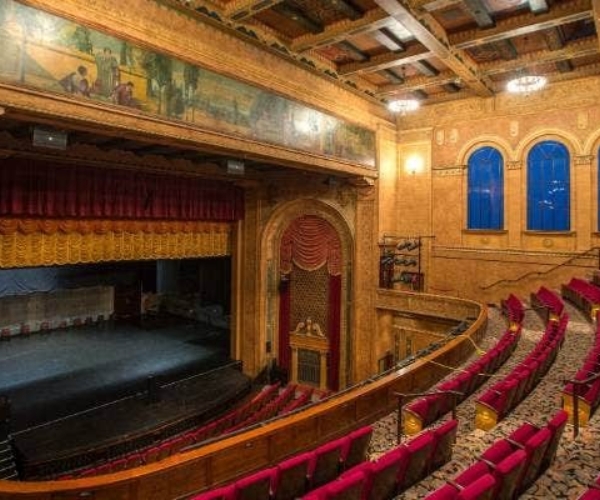 Overview
Hosted by Dr Tania Kopytko, Trustee, Regent on Broadway, David Walsh, Manager, Regent on Broadway and City Library staff.
Enable your students to experience one of Palmerston North's most loved historic buildings. Visit the City Library for a guided activity on information about the Regent held in the Ian Matheson City Archives. Visit the Regent Theatre to uncover historical stories.
Who is this suitable for?
The programme is designed for Year 4-6 students.
Learning experiences
You will receive a teacher information sheet which you can support classroom work in advance of visiting the Regent Theatre. During their theatre visit, your class will experience the "What happened at this place?" programme.
What's being offered to your school?
The City Library will organise a bus to pick up one or two classes from your school (the bus seats 41) for a three-hour history experience in the central city. The City Library will cover all costs associated with the Regent visit and archives activities.
When?
Mon 6 March, 12:00-3:00pm
Mon 20 March, 12:00-3:00pm
Mon 27 March, 12:00-3:00pm
The itinerary for one class involves:
30 mins: Bus from school to town
45 mins: The City Library guided activity
15 mins: Walk to the Regent Theatre
45 mins: Regent Theatre visit
15 mins: Walk to bus (5-10 mins)
30 mins: Bus from town to school
Other useful info: Includes moving up and down staircases; Involves walking between two locations; Friends of the Regent will be present at the theatre.
How to take part. The City Library is taking expressions of interest from schools until Wed 22 Feb on a first come, first served basis. Either email virginia.warbrick@pncc.govt.nz or express your interest online in the registration form, scroll to the "For teachers and students" section.